This web site is devoted to helping people live better lives via improved planning and decision making.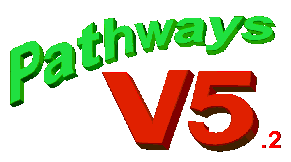 Pathways Planner Software
The Pathways Planner V5.2 will help you to manage your time and money and make systematic, rational plans and decisions for the benefit of you, your family, and others. In addition to serving as a handy planner, Pathways supports an ethical planning methodology that involves setting goals and considering the wishes of other people within your plans.
Here's how to get it for FREE:
| | |
| --- | --- |
| | Click the icon at left to download the Pathways software for your FREE use on a Windows-based personal computer. |
| | Register your copy. You must register within 30 days of your first use in order to continue using the Pathways software. There is no registration fee. To register, click the icon at left or click here. |
FAQ: What does Pathways do and how do I run it?
What it does: Pathways is a tool that supports a comprehensive planning process, including goal setting, strategy development, managing of time (time budgeting, appointment scheduling, and to-do list), managing of money (financial planning, budgeting, and tracking of revenue and expenses), etc. It can be used in a very simplistic manner (for only a few of its capabilities) or as a sophisticated planning tool.
What it runs on: The software runs on any personal computer (PC) with an Intel or compatible processor and any version of Microsoft Windows from Windows 95 (from 1995) through Windows 10 (current release for 2015). It will run on most modern tablet and "smartbook" computers. Note that this does NOT include Windows 8 RT, which is now obsolete; Windows RT was designed for tablet computers that do not have Intel-compatible processors, and therefore Pathways will not run on RT.
Pathways V5 is really a suite of tools The programs included with V5 are:


The Alarm Clock (includes program Launch bar shown at left)
The Pathways Planner
Person and Address Book
Handy Filer
Report Viewer
Idea for the day
Calculator
Book Reader
Pathways Wizard

| | |
| --- | --- |
| | Click icon at left to see a list of features and example screen images. |

To find out about the advantages of V5.2 over previous versions, click here.
---
VOTE on the Idea for the Day!
| | |
| --- | --- |
| | When you use Pathways, each day it presents a different "thought for the day." Click the light bulb to see the 14 most popular ideas as rated by Pathways users. Also this will give you an opportunity to vote for your favorite! |
Pathways Accessories and Help
| | |
| --- | --- |
| | We have some free music available for download. You can use it with your Pathways Alarm Clock, or you can just play it for fun using your Windows Media Player or other music player. |
| | Here you will find background pictures for use with your Pathways calendar. |
| | Here are some building blocks that let you add on to Pathways to get extra capabilities. |
| | This is our information link. Curently we have health and fitness information posted. See how to use Pathways to improve your fitness! |
| | Technical support: If you have some comments for us, or if you need help with the use of the Pathways software, click the icon at left. |
---